Archive:

3.9.01 (friday)

Fun with the Aiptek pen cam...



a corner of my living room, flat eric hangin' around, an orange ceramic cat, and a bad live video shot of yours truly and the ill-tempered Cat

3.5.01 (monday)



Happy Birthday Grandpa!

Saturday, driving in the car, I happened to see a hawk fall out of a tree to catch what I can only guess was a mouse. The odd thing about this is that it was right next to an expressway off-ramp, and it was a tree which made up the foliage at the edge of a parking lot. I've seen hawks and other such birds out in the middle of nowhere on the way to my granparents house, but NEVER in such a suburban area. It was quite surprising.

3.4.01 (sunday)

The other day I found myself cooking dinner, and doing the dishes. Not that I mind doing both once in a while, but while I stood in the kitchen, towel drying a pot, I all of a sudden found myself thinking of the house near Ocean Beach.

It was a corner house, which meant there was a small backyard AND a front yard, which is somewhat rare in San Francisco. It was a two story, the bottom story mainly consisting of the garage, and two bedrooms that had probably once been more garage space. Upstairs had been painted a hideous pink color (Pepto Bismol only begins to describe it). We spent a couple of weekends painting the living room, dining room and entry hall to an off white color, which went much better with our decor.




I will always remember the kitchen. What it lacked in counter space, it made up for in charm. The floor was my favorite part, large tiles that created a black and white checkerboard. It was big enough to fit a small table, so we ate our daily meals there. The absence of a dishwasher meant we all took turns washing the dishes.

At the time, I hated living there. I hated that we had moved (in the middle of my sophomore year of high school), I hated having to sit at the table with everyone to eat and usually retreated down to my room the minute dinner was over, and I hated washing the dishes and usually tried to avoid it somehow.

The other night, as I was standing in another kitchen, washing and drying dishes, I wished that I hadnít hated living in the house near Ocean Beach.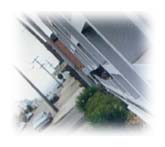 That I had stayed at the dinner table longer, and helped with the dishes a little bit more, because it was the one time during the day when we were all together.

Now someone else lives in the house near Ocean Beach, and I will never be able to go back and sit at the little round table with my brother, mum and stepdad, in the kitchen with the checkerboard floor. Why is it that sometimes we never realize how important something is until itís no longer there?