Archive:

5.25.01 (friday)

So here it is. The "silver bullet" as my dad called it. I feel a tad silly posting pictures of my car. But let me explain...I've wanted a Volkswagen FOREVER. But I endured driving the "junk buggy" for the past 8 years and I am so absolutely thrilled to finally be driving the car I've wanted for so long. I'm positively GIDDY. Maybe you noticed.
Mum told me I was brought home from the hospital in an orange VW bug, maybe that explains the obesession...





I'm going to make a sweeping generalization and say that almost everyone knows the beetle comes with a bud vase. Yes, really. Of course I had to put a flower in it. I tried a couple of real flowers (a lovely purple pansy, and some wild mustard flowers from San Gregorio beach). And while they do okay sitting in the car overnight, after about 15 minutes in the sun, the buggers wilt like you wouldn't believe. So, I've opted for some lovely fake gerbera daisies:





So that's it. I'll stop with the car nonsense now.


5.24.01 (thursday)





I'm not wearing shoes today.

Well, maybe when I leave the buliding I'll put them on. But the rest of the time...it's a shoe free day.


5.23.01 (wednesday)

Many thanks to peta for her birthday wishes!

I forgot to mention that yesterday was morrissey's birthday.
Once a smiths fan, always a smiths fan.


5.22.01 (tuesday)

The keys to my new ride:





All of a sudden it seems there are a couple of guys intent on helping friends/sisters find boyfriends:

The Date Sheila Project
The Date My Sister Project

Will this work better than on-line personal ads? I may have to watch and find out...


5.21.01 (monday)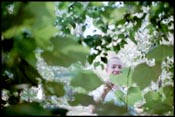 Happy Birthday Lil Bro!

Yes, his brithday is the day after mine. We're just a bit more than 2 years apart.
We usually try and celebrate our birthdays together, but since we're both so busy right now (I'm moving, he just finished a semester and has summer school soon), we're postponing the official birthday celebration until June.


5.20.01 (sunday)

happy birthday to me

Today, I turn another year older.
To celebrate, I bought a car.

Well, not really, the two happen to be completely coincidental. I needed a car, and happened to buy one the day before my birthday.

What kind of car? A Volkswagen beetle. Silver, with black interior. I came very close to buying the metallic "kermit" green beetle (ugly green beetle!), but decided silver was a better color choice in the long run. There's no pictures today, but don't worry, there will be...